An Affiliate/Industry Partner Membership is offered to those organizations and/or businesses who are engaged in service industries that directly support real estate activities with REALTORS®. As an Affiliate Member, you will have opportunities to connect and network with over 900 REALTOR® members through marketing, engagement, promotion, and recognition throughout the year. Here are some examples of types of businesses that would benefit from an Affiliate Membership:
Appraisers
Contractors or Builders
Engineering Companies
Home Inspectors
Insurance Companies
Lenders or Banks
Radon Mitigation Companies
Real Estate Attorneys
Real Estate Photographers
Title & Escrow Companies
Affiliate Membership Benefits & Dues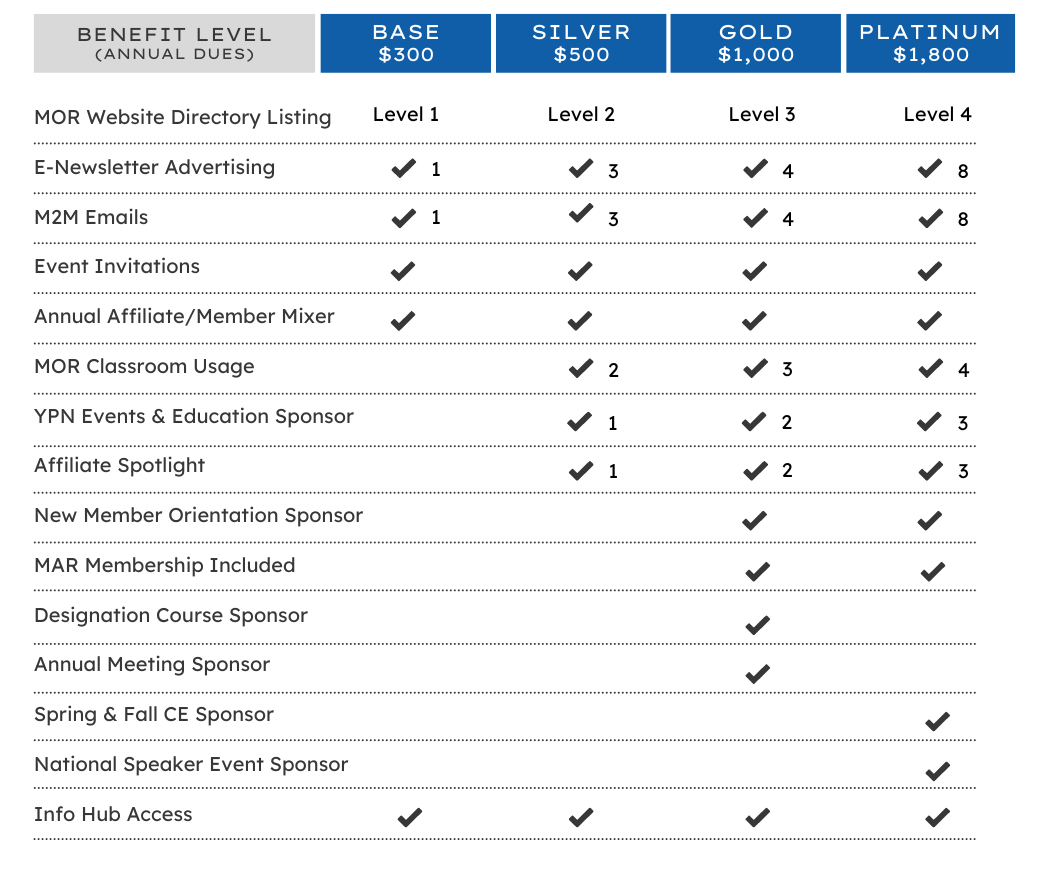 Take Advantage of Your Affiliate Membership 
MARKET YOUR BUSINESS
Advertise in MOR's e-newsletter "The MOR You Know"
Member 2 Member or M2M Communications are a convenient tool to send important messages and promotions to our members
Affiliate Spotlight: MOR will highlight your business on Instagram & Facebook throughout the year
Event and Class sponsorship opportunities with the opportunity to speak about your business to our attendees
WEBSITE DIRECTORY LISTING
Level 1 - Includes logo, website link, & phone
Level 2 - Includes logo, website link, phone, business description & 1 contact
Level 3 - Includes logo, website link, phone, business description & up to 3 contacts
Level 4 - Includes logo, website link, phone, business description, unlimited contacts & optional video
View our Industry Partner Directory Listings here.
JOIN A COMMITTEE
Build relationships with REALTORS® and other Affiliates through your participation on MOR Committees. They are responsible for strategic direction, advocacy, public positions, professional development, and charitable giving.
Committees include: Professional Development • MOR4Kids • Communications • Public Affairs • Young Professionals Network (YPN) • Diversity, Equity & Inclusion 
REALTORS ®CHOICE AWARDS
All of our Affiliate Members are eligible to receive one of the following annual awards based on popular votes by our REALTOR® Members:
Title/Escrow Company
Lender/Bank
Affiliate Product/Service 
READY TO BECOME AN AFFILIATE MEMBER?